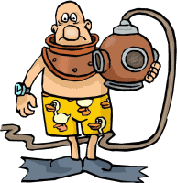 MARES AIR KING TWIN HOSE REGULATORS
Feedback from HDS-Italy shows that there were three models. All are super rare.
AK "A" circa 1960
AK "S" circa  1960
AK "61" circa 1961
From the above information we can now date my Mares Air King – 61
The housing turned out to be Stainless Steel so a good polish worked.
Unsoldered internals and cleaned and now all back together and working. Found a diaphragm in amongst my stock that fitted after a bit of modification.
Very pleased with final result.
The below is a great web site to view Mares history